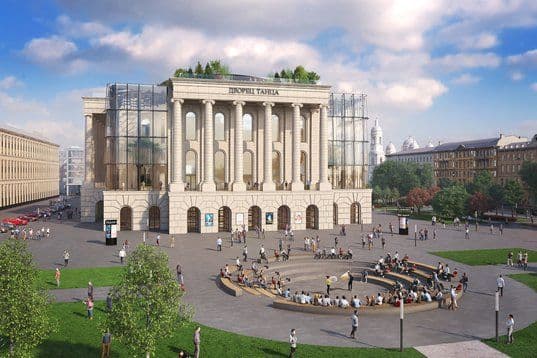 Eifman Ballet has been around for over forty five years in St.-Petersburg. Despite this, the company still hasn't got its own stage. For more than two decades the troupe had had their quarters in rehearsal facilities at Liza Chaikina Street. In 2010 the company moved to another premises at Gagarinskaya Street, while the building on Chaikina was demolished and gave place to the construction of the Boris Eifman Dance Academy (construction completed in 2012).
As originally devised by Boris Eifman, the Dance Palace is to become more than simply a theatre but an international choreographic arts centre. Within its walls three new ballet companies will find their home to represent three ages of Russian ballet. The first one of them will be a troupe of classical ballet style engaged in the preservation and revival of the classical ballet heritage of the XIX century and the masterpieces of the Soviet time.
The second company will be Eifman Ballet representing the psychological ballet theatre tradition and pursuing the goal of creating and staging original and successful ballet repertoire of today's Russia.
The third company is to be devoted to searching for and developing of the methods and forms of ballet arts of the XXI century. This experimental group of dancers shall become a workshop for young choreographers and an "arts incubator" aimed at revealing and nurturing new leaders of the world ballet.
Of course, the Palace's activities shall not be limited to the work of these three ballet companies. Its performance and rehearsal facilities will be open to all and everybody for whom life means dancing. Folklore and ballroom dancing, amateur performers, street dancers, free dance, plastic theatre – all these will be welcomed at the Dance Palace in its classes and on its several stages.
The setting up of this arts centre – an unprecedented venue in today's international dance world – shall pursue a most important cultural and educational mission which is to introduce millions of Russian people to the spiritual and artistic values of the high art.