A ballet by Boris Eifman
Music: Ludwig van Beethoven, Gustav Mahler
Sets and costumes: Vyacheslav Okunev
Light: Alexander Sivaev, Boris Eifman
Premiere: June 24, 1999
Revised: April 26, 2017
Running time: 2 hours, with one interval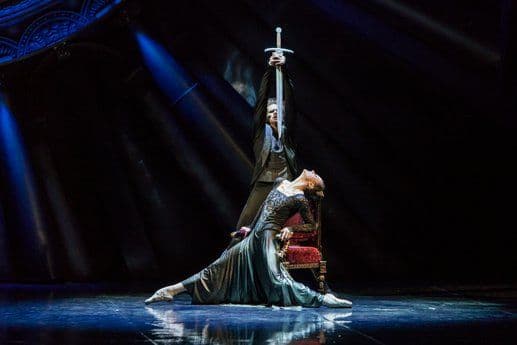 In his performance, the choreographer referred to the figure of Paul I – one of the most mysterious and contradictory characters in Russian history. Restricting the chronological scope of the production with the period of his heredity, Eifman brilliantly portrayed the tragic confrontation between the extraordinary and fragile personality and a hostile world built on violence, treachery and lies.
During the years of its active stage life, the ballet was performed with incredible success in the USA, France, Italy, Germany, Austria, China, South Korea, Argentina and many other countries. "According to the degree of concentration of findings, scenic metaphors and emotional intensity Eifman outperformed himself, because he has no one to compete with. Two leading ballet critics Anna Kisselgoff and Clive Barnes unanimously gave him the palm tree in the modern ballet," wrote well-known journalist Bella Yezerskaya after watching Russian Hamlet. The New York Times in the review of the production said that Boris Eifman "has a way with electrifying images and theatrical fantasies that other choreographers do not." The ballet came off the stage in 2012.
In the jubilee 40th season of Eifman Ballet, Eifman, continuing the practice of reviving his famous performances composed in the 1990s and having fallen out of the repertory, turns to Russian Hamlet again. Leaving the plot outline of the ballet without significant changes, he reinterprets the choreographic score at the same time, making it even more inventive, refined and emotionally intensive.